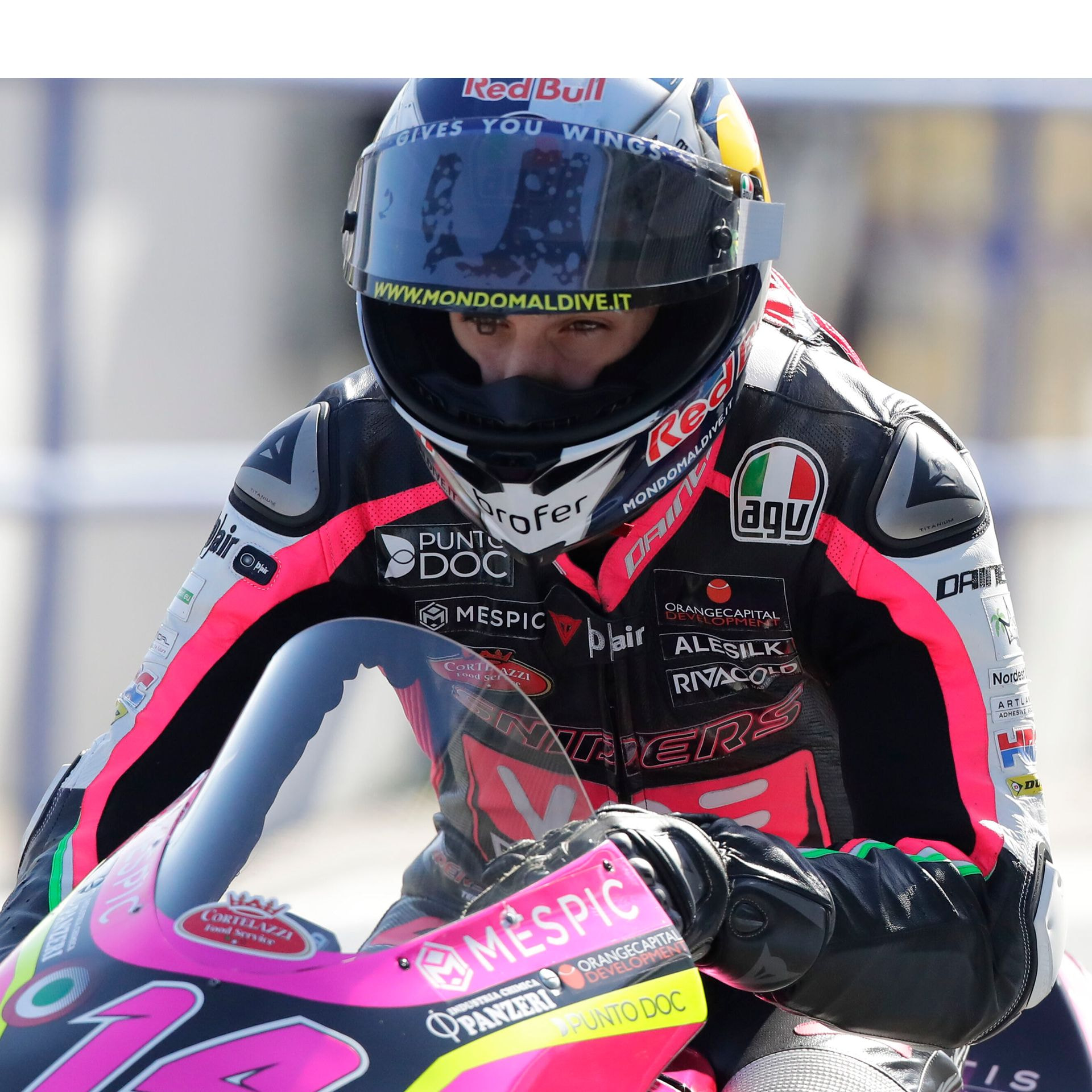 Let me introduce myself... I'm Tony Arbolino
Name: Tony
Last Name: Arbolino
Born in: Garbagnate Milanese
on: 03 Agosto 2000
Zodiac sign: Leo
City: Garbagnate Milanese
Height: 172 cm.
Nickname: Arbo - El Tiburon
Hobby: Softair and Football/soccer
Favourite social network: Instagram
Tony Arbolino
Tony Arbolino was born in Garbagnate Milanese near Milan, Italy, on 3 August 2000. His favourite sports are motorcycling and football/soccer. Tony first approached the world of mini-motorcycles at the age of four thanks you his father's having given him one as a gift. He displayed immediately an affinity with this type of vehicle.
Arbo14
He started competing with the number 4, which at the time corresponded to his age. When he registered for his first championship, since the number 4 had already been given to another child, Tony decided to go for the number 44. Nowadays he races with the number 14, with which he obtained his first world victories, a number that he wears with pride.
Debut
In 2009, Tony competed like a beginner in the Italian Championship, winning right off 15 races out of 18 and being awarded all of the following: Titolo Italiano, Coppa Costruttori and Titolo Regionale, and ranking 3rd in the European Championship (Germany). In 2011, Tony moved onto a different category and competed in the Campionato Mini GP50, ranking 3rd place. Next, in 2012 he won out at the Mini GP50 European Championshinp (Spain). In 2013, at a mere 12 years of age, the Federazione Italiana stipulated a special exception for Tony to race in the Campionato Pre GP 125 2T, which takes place at world-class venues such as Mugello, Imola, Misano and Vallelunga. Right off the bat in this category, Tony amazed everyone by winning the Campionato Italiano with an in-advance race.
The rise
In 2014, Tony joined the SIC 58 SQUADRA CORSE team. With Paolo Simoncelli's help, he won the Campionato Italiano PreMoto3 125 2T wearing the SIC colours, stepping up on the podium nine times: 6 for first place, 1 for second place and 2 for third place, obtaining the title with an in-advance race!!!
Motomondiale
The following year, in 2014, he joined the "SIC 58 SQUADRA CORSE" team. With the help of Paolo Simoncelli he wins the Italian PreMoto3 125 2T Championship with the colors of SIC, climbing on the podium for 9 races: 6 first places, 1 second place and 2 third places, winning the title with one race in advance !! !
Honda 250cc 47
Cubic capacity: 250cc 4T
Power: 56cv
Engine type: one-cylinder
Frame: double aluminium
Shock absorbers: Ohlins
Power supply: injection system (Honda)
Clutch: oil-bath multi-disc
Brakes: double front discs, single rear disc (Brembo)